8/10/2011
So, I am so late on this, and I apologize. I have been catching up on registering for my certification class, going back to work after medical leave, and so much other crap.
Anyway, the list for what I am doing at Nekocon-13. Mind you, all of these have a relation to Stephanie's cosplay.
Friday- Pig, humanized, from Angry Birds. I'm defiantly looking forward to this one. I haven't seen much by way of Angry Birds cosplay, and this will be great!
Saturday- Witch of the Wastes, from Howl's Moving Castle. I love this idea. I love the fact that there are some fashionable plus sized ladies in anime!
Sunday- Fallout, Merc Charmer Outfit/Vault Jumpsuit, with Pipboy. This one we are still up the air about. The jumpsuit in theory is easy, if we could find a jumpsuit. A blue business suit at Goodwill is probably a easier catch. The pipboy is going to hurt my soul. The idea of making it already hurts my soul, but, I want it, so I will make it.
The female on the right, will be our cosplay.




This is the Jumpsuit option, not shown with Pip-Boy.
THE RAVE! As for the Rave, that is up to Stephanie, she is doing most of that designing. I am smiling, and looking pretty. XP She is designing the corsets as we look for patterns and materials and other things. For the most part, I say yay or nay.
I'll post more on this as more comes my way.
Thanks!
________
10/4/11
So, because Stephanie made me feel very lazy, I am going to update my cosplay log. She has done so much in the past few weeks, and all I've done is get a promotion! GAH! I'm so very lazy.
Like in my cosplay creating for example. I'm so far behind! Witch of the Wastes was supposed to be easy! I can't find anything!( On the other hand, I have had time to fall in love with a new car, read 2012 Hyundai Accent 5-door, the updated hatchback of what I already own. And its alarm is manly Stephanie!)
See! New Hyundai Accent! In the color I want too!
Accent I own. Not as pretty, nor Hatchback-y
Back to cosplay.
The Witch of the Wastes is being a bastard. I have found a nice hat option from Wal-Mart surprisingly though. The dress was supposed to be an easy find. Thank you Ross, TJ Maxx and Goodwill for letting me down. I have a shorter version, which I might just do. Screw accuracy. That not-as-pretty-as-the-hatchback Accent is a money stealer and I'm broke.
Angry Birds is another story. I have a good idea about hair, and outfit and crown, but! the outfit I want is being elusive. I might update it some.
Finally! Vampire Vs. Vampire Hunter. I love this idea. And its coming along quite nicely. I just need to find fat people boots. XP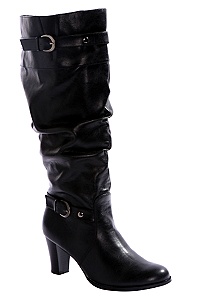 Read: Fat People Boots. Notice the large calf area.
Be on the look out at Neko-con for Blame the Muse merchandise! It will be so awesome! Plus! We'll be manning the Volunteer desk again and you won't be able to miss our Purple Glitter selves!
Or I hope not anyway.
I have to wonder if anyone actually reads this log. No comments or likes? Sigh, I hope we get off the ground faster at Neko.